Visitors Can Learn About the History and Architecture of this Hip Strip Right on Their Smartphones
Geotourist, the travel social media app, is hosting an audio tour of Congress Avenue for the Austin Chapter of American Institute of Architects. The tour celebrates the historic heritage, the architectural diversity and the cultural revival of Congress Street.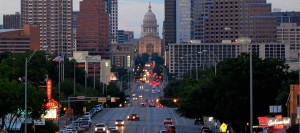 Congress Avenue is Austin's main business thoroughfare that cuts through the center of town from the Texas State Capitol down to the Colorado River. South of Lady Bird Lake, South Congress Avenue, or SoCo, as locally known, has become a hip destination with eclectic shops, restaurants, music venues, art galleries and boutique hotels.
The GPS-guided audio tour starts at the Texas State Capitol, continues down to the Contemporary Austin, the City's museum of art. After a stop at the Paramount Theater the tour crosses the Colorado River to SoCo for an architectural tour of iconic and contemporary boutique hotels. The tour features award winning renovations by architecture firms that are members of the AIA.
Visitors will be able to listen to the sites' stories right on their smartphones. Users can download the Geotourist app and access each site's audio tour based on their geographic positioning. They can share their favorites and leave comments.
The app and the tour are available for free download from the Apple and Google app stores.
About Geotourist
Geotourist is your personal tour guide for the world's top travel attractions, architectural landmarks, historical sites and beyond.
 With GPS functionality easily access audio guided tours in multiple languages right on your smartphone. Create your own tours, post photos and share your experiences via social media. Learn about history, art and architecture through audio tours curated by leading cultural organizations and subject matter experts.