Geotourist is hosting audio tours of post-war public art in Bristol, Birmingham and Sheffield for Historic England. The GPS-led guides are available free for download for iPhone and Android, and will take visitors and local people on a tour to rediscover the cities' unburied treasures from the post-war years.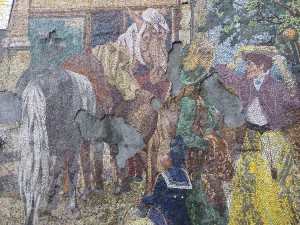 The tours encourage listeners to look up and see often overlooked and at-risk public art. England has a fascinating collection of public art from the post-war period. After the Second World War art was used to bring public spaces back to life as the country began to repair its shattered towns and cities. This art was created for everyone, to humanise and enrich streets, housing estates, expanding universities and schools.
These tours will guide listeners to post-war artworks across Bristol, Birmingham and Sheffield using their smartphones. Users will be encouraged to scan the rooftops, peek through railings and discover the fascinating stories behind different pieces, some still cherished and others now forgotten.
The tours will explore a range of works including Sheffield's Vulcan; a sculpture in Bristol named Refugee, made by an artist whose family was obliterated by the holocaust; and a beautiful but crumbling mosaic in Birmingham.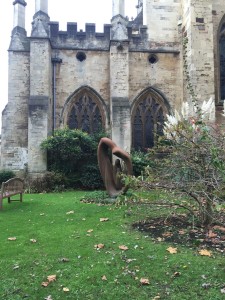 Other pieces featured include those by David Wynne and William Mitchell  in the Sheffield tour, David McFall in Bristol and William Pye in Birmingham.
The tours are part of Historic England's countrywide drive to encourage people to better appreciate the national collection of post-war public art. This collection is being explored in an exhibition at Somerset House, "Out There: Our Post-War Public Art" , on view until 10th April 2016.