Digital storytelling celebrates the history and the heritage of Yorkshire's famous coastal towns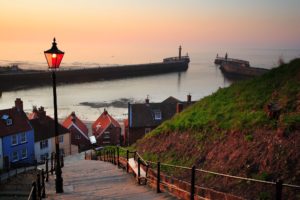 199 Abbey Steps above Whitby Harbour Whitby North Yorkshire England
Working in partnership with Discover Yorkshire Coast, award winning GPS-audio tour brand, Geotourist, is delighted to announce the launch of three tours in the coastal Yorkshire towns of Filey, Whitby and Scarborough. Bringing together a series of audio tours that ties together the history, geography, myths and legends of England on one audio-mapping platform for the first time, Geotourist welcome the launch of phase one of Epic England.
Working with nine world-class English DMOs and organisations, the Discover Yorkshire Coast Epic England stories are now pinned to the Geotourist digital audio map of the world for others to discover.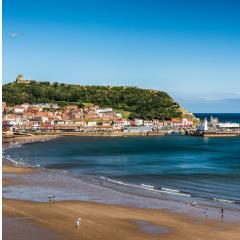 England's northern coastline has been witness to many of the nation's defining moments in history, however the three towns of Filey, Whitby and Scarborough are dotted with links to literature, myths and legends that you could so easily miss out on as you stroll by. As well as providing some of the UK's most stunning beaches and the best backdrops to tuck into locally sourced fish and chips, the Epic England trails give you a glimpse into the more curious elements of the regions – after all vampires have to come ashore somewhere, don't they? Through the Epic England audio tours, Geotourist and partners have captured these stories digitally and preserved them for today and tomorrow, protecting local content for generations to come.
Shaon Talukder, CEO, of Geotourist said,
"We are proud to deliver Epic England and we are delighted to be working with Discover Yorkshire Coast for phase one of the Epic England project. What makes it even more special is that Discover Yorkshire Coast has chosen to launch three Epic England presented by Geotourist tours across the region. This is an exciting proposal for visitors because it means that they can have access to a chain of tours that will allow them to understand what it is they are looking at and what makes the places that they are visiting so special to the local area but also why there's nowhere else quite like it on the planet. The Epic England tours are a collection of moments that stop you in your tracks when your brain makes a connection – scientifically, this is neural networking but to you and I, it's that 'Wow' moment that stays with you. Sharable over social media, the Epic England tours can be listened to on location, or from anywhere in the world and be shared with family and friends, just like a postcard. The potential for global reach is undeniably real and simple."
Janet Deacon, Area Director of Welcome to Yorkshire and Tourism Manager for Scarborough Council said
"We are proud to launch our first audio tour with Geotourist, highlighting some of the curious tales that make the Yorkshire Coast so unique. Across three destinations; Filey, Whitby and Scarborough, you can hear some of the magical stories of dragons, ghosts and goblins that inhabit the eastern shoreline. We are hoping that this tour is just one of many that will showcase the heritage, history and uniqueness of the Yorkshire Coast"

Follow the Epic England journey on social media:
Geotourist Twitter Account – @geo_tourist
Geotourist Facebook Account – www.facebook.com/geotouristapp
Geotourist Facebook Account – www.linkedin.com/company/geo-tourist
Geotourist Epic England Twitter Account – @GoEpicEngland
We will be using the following #hashtags
#EpicEngland
#PresentedByGeotourist
#Geotourist
#GoEpicEngland
The Geotourist app is easily accessible for everyone. To take the self-guided audio tours download the free Geotourist app from the Apple and Google Play app stores.