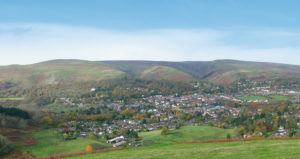 Working in partnership with Shropshire Hills Tourism, award winning GPS-audio tour brand, Geotourist, is delighted to announce the launch of the Church Stretton tour. Bringing together a series of audio points that ties together the history and heritage of the Shropshire Hills town on one audio-mapping platform for the first time, Geotourist welcomes the launch of phase one of the Epic England collection.
At the turn of the 20th century, Church Stretton was nationally renowned as "Little Switerland" because of its stunning sweeping landscapes, when, because of its natural springs, it briefly aspired to be a health resort. However, its history goes back to Norman times and evidence of that great heritage can still be seen in the town's buildings to-day.
Shaon Talukder, CEO, of Geotourist said,
"We are proud to deliver Epic England and we are delighted to be working with Shropshire Hills Tourism for phase one of the Epic England project. The Church Stretton tour represents a wonderful opportunity for visitors to better understand the stories behind the town and how it came to be the place it is today."
Paul Davis, Chairman of Shropshire Hills Tourism said
"This tour brings alive the rich 1000-year history of Church Stretton, the small market town nestling in the heart of the Shropshire Hills Area of Outstanding Natural Beauty".

We will be using the following #hashtags
#EpicEngland
#PresentedByGeotourist
#Geotourist
#GoEpicEngland
The Geotourist app is easily accessible for everyone. To take the self-guided audio tours download the free Geotourist app from the Apple and Google Play app stores.