As many students return to university, it's time to reflect on the relationship between the tourism industry and the generation of students that will take it forward in the year to come.
At Geotourist, we believe in working with the tourism professionals of tomorrow. We have listened to many industry speakers explain the pain points they face when encouraging students to enter the industry. We really wanted to understand what the proposition of a career in tourism means to students. We were delighted when University of Surrey student, Maryia Viarkhusha, joined us at the start of English Tourism Week, at the English Tourism Conference.
Spending time with Maryia was an honour and a pleasure. Maryia was thrilled to visit Westminster and we were as equally thrilled to see the industry through her eyes.
New PM, new rules
Under Boris Johnson's PM tenure, he has extended the period that students can stay in the UK after graduation from 4 months to 2 years. Aimed at boosting the appeal of Britain as a university destination for overseas students, the change for international students on undergraduate, postgraduate or PhD courses will take effect in 2021.
This leaves us with two questions: how will this impact student applications next year – is the change powerful enough for 2020 applicants to defer for a year, and what will this actually mean for the tourism industry?
When we spent our day with Maria in April, Mrs May was still in Number 10 and Michael Ellis was Tourism Minister.
Let's hear from Maryia in her own words:
I'm in my second year of studying International Hospitality and Tourism Management at the University of Surrey, and today I'll get to listen to some of the brightest minds of the industry, whose faces and names I have seen so often in our textbooks and lecture slides.
Together, with Shaon, Barsha and Lindsey from Geotourist, I'm delighted to see other attendees, including names such as ABTA, UKInbound, VisitBritain. The atmosphere is much more relaxed and friendly than I expected and I can see that this is the place to have great conversations.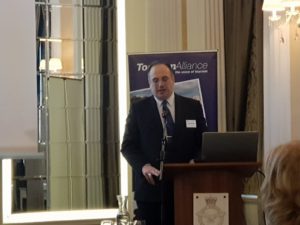 Following a warm welcome Deidre Wells OBE and British Destinations Chief Executive, Peter Hampson, the then-Minister of Tourism, Michael Ellis, spoke. The Minister addressed the room, acknowledging the concerns of his colleagues about the impact of political uncertainty. Hot topics, like EU students and travellers, visas and bus services, were addressed with the latest decisions in Parliament.
Baroness Doocey gave an inspiring speech on challenging the status quo, and pushing for better industry deals in our conversations in Parliament. It was so enlightening to hear the Baroness say, with confidence, "NO is only the beginning of negotiation for me, not the end".
Lunchtime at events like this is the opportunity to network and I very much enjoyed my conversation with Kathryn Davis, from Destination Bristol, about the student perspective on the industry. It was reassuring to spend time with Kathryn and – as with throughout the day – explore in more depth the issues with the demand for young professionals in the industry and the widening skills gap. My experience – as with many of my course mates – is that companies provide only a few placement spaces, and incredibly hard recruitment processes. It means that many of my peers find themselves applying for placements in marketing, HR etc., which often results in them diverting from travel and tourism after graduation too.
The panel discussion, following lunch, covered five key themes – tax, transport, visas, tourism structure and funding, and immigration & employment. Sarah Cooper, CEO of English UK, said that employers should start transforming the perception of the tourism industry into "aspirational, and not a dumping ground" sending again this recurring message that we're wanted and needed by the industry. Maybe this mismatch of demand and supply of young industry professionals is very often not a mismatch, but a mere miscommunication?
Where do we go after graduation?
The majority of my coursemates are non-British and many of them, myself included, are international, studying on Tier 4 visas, which expire 3 months after graduation. This drives us to take our skills and knowledge elsewhere, despite a common desire to stay in the UK and contribute to its industry. I was very glad to hear this concern voiced by Sarah Cooper, who argued for extension of visas for students and alumni of UK universities, as well as their family members. It may be a long while until this discussion can turn into viable changes, but now I know the discussion is at least started, and it is a very promising start indeed.
Attending the English Tourism Conference was an absolutely incredible opportunity. Not only did I have a chance to witness how major industry changes are made, but I have also learnt just how much everyone in my industry has in common. Resilience, determination for improvement and innovation are the ideas that Ministers, Chairs and CEOs live, breathe and will be bringing back to their communities after today. This knowledge and welcoming spirit are what I have brought back to my student community too.