Geotourist digital audio trails for smartphones are thrilled to launch their first Caribbean tour and look forward to working with Antigua and Barbuda to showcase this wayfinding, visitor flow solution.
Free to download for iPhone, iPad and Andriod users, the app highlights must-see historical sites in Antigua's capital of Saint John's, as well as within the Unesco World Heritage site, Nelson's Dockyard. Geotourist users are guided by Antigua and Barbuda media personalities, Jamilla Kirwan and Peter Gordon, who will share historical facts on structures, monuments and cultural icons.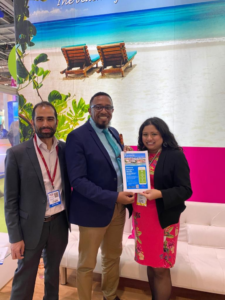 Colin C James, Chief Executive, Antigua and Barbuda Tourism Authority, said: "As the needs of travellers evolve, Antigua and Barbuda will continue to enhance our product, and we are proud to be the first country within the Caribbean to launch this free mobile GPS-triggered, audio tour. In addition to already offering visitors the opportunity to be guided throughout the country by accredited tourist guides, this new mobile app now meets the needs of those cultural explorers who have the desire to immerse themselves in the local culture and seek out their own experiences, while still benefiting from a personal tour guide."
Mo Talukder, Director of Sales, Geotourist, commented: "These Antigua trails are incredibly special for Geotourist. As our first partnership in the Caribbean, we were delighted to work with the tourism board to curate these unique insights into the island's history. The tours showcase Antigua at its best, demonstrating why this stunning Caribbean island has so much more to offer than just another beach experience.
"The tours help to bring visitors from the cruise ships and hotels, distributing them around the capital, St John's, enabling them to get the most from their stay, including the Unesco World Heritage site Nelson's Dockyard, and experience the rich history and hidden gems the island has to offer first-hand."
Let's go…
The Geotourist app is easily accessible for everyone. To take the self-guided audio tours download the free Geotourist app from the Apple and Google Play app stores.