Frank Lloyd Wright is a master architect of the 20th century. His buildings reflect and celebrate the unique character of American architecture. He left a unique imprint with his distinct design that is "more expressive with fewer lines, fewer forms; more articulate with less labor".
Here is a selection of audio guides of his work across the United States: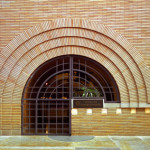 140 Maiden Lane in San Francisco, California
This structure near Union Square features a spiral ramp, thought to be the prototype for the Guggenheim Museum in NYC. Learn more in audio tour by American Institute of Architects San Francisco Chapter.
---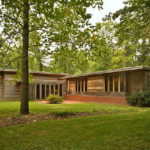 Pope-Leighey House in Alexandria, Virginia
This modest home, referred to as Usonian, thought to mean "the United States of North America", is on a site National Trust for Historic Preservation. Learn more on audio tour by Visit Alexandria.
---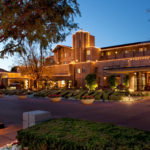 Arizona Biltmore
Frank Lloyd Wright collaborated with his student on the design of this resort.